Crystal Glass Balls 16 - 40 mm | Buy Crystal Balls Online | Deco Stones
Crystal Glass Balls for Garden and Home Decoration.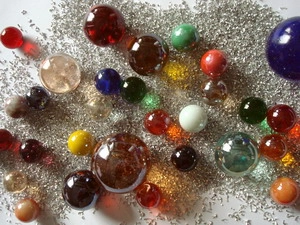 Colored glass balls are becoming increasingly popular in garden designing. Observe the outdoor gardens in Europe and you will find the addition of beautiful crystal glass balls as a decoration element. These eye-catching elements are extensively used in the garden design and can be clubbed with other products such as steel chimes, spirals, wind chimes etc. to achieve an enhanced visual effect. High-quality crystal glass balls are made of solid glass, are perfectly rounded with a polished look. Also known as Glass Spheres, they refract light to provide a stunning look to your decoration.
These balls have high glass purity, exact round shape, and a seamless polished surface. Their brilliant shine adds an element of class to table decorations, enhance the festive setting at home and adds depth to your surroundings. Read on to know more about their features and some tips to use them. Buy from us for reasonable prices and a updated new collection.
Applications of Crystal Glass Balls - Tips and Tricks
Production of high-quality garden accessories in combination with stainless steel products
High-quality gift item
Art and craft items
Filling decorative glass containers
Landscaping indoor and outdoor areas including floor coverings
Home decorations during the festive season
Stairs and balcony railing ornament
Gifts in the advertising industry, printed and unprinted
Production of ball spirals, wind chimes, garden plugs
A decorative large-scale design element in the interior and exterior
Christmas tree decorations
Features of Crystal Glass Balls
Made of optically pure glass that is high in quality
Polished smooth surface without defects
Available in sizes from 16-40 mm
All weather resistant
Available in multiple colors including Petrol, Cobalt Blue, Red, Yellow, Green etc.
1
to
6
(from a total of
6
)