Glass Pebbles, Glass Nuggets Wholesaler, best Quality | Buy cheap Online | Deco Stones
1
to
100
(from a total of
128
)
Glass pebbles, also known as glass gems are shiny, light-refracting decorative products offered by Deco Stones.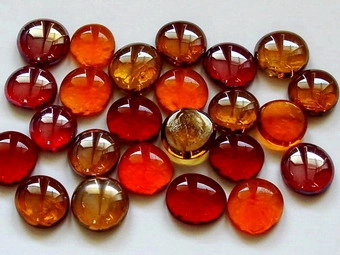 These machine-made, flat glass beads are available in a variety of colors and sizes. Experience the visual effect by combining them with light and watch your residence, garden, or open space light up. Add these pebbles to your table setups at weddings or give them away as gifts at trade fairs or use them in handicrafts. Buy from us online and be assured of our quality.
Applications of Glass Pebbles
Create beautiful-looking glass vases on festive occasions by filling them with pebbles
Add them to handmade crafts and mosaic table sets
Fill up a glass jar with glass gems, add LED lights, and enjoy the effect in Autumn
Decorate plant pots with a glass gems necklace
Trendy junk jewelry
Decorate your Christmas tabletop trees with glass nuggets
Used in the construction of artificial river landscapes, lake beds, and water fountains
Deck up your garden sitting areas
Features of Glass Pebbles
Made of real stained glass - Available as colored, transparent, or opaque
Polished and smooth finish
Available in green, blue, red, and orange
Frost-free, all-weather-resistant material
Fully color stable with long outdoor exposure
Moss and algae-free due to the smooth surface
Self-cleaning during rain. No additional cleaning required
Recyclable material
Delivery Information
Available in green, blue, red, and orange
A mix of colors is possible
13-15 mm: 1kg = approx: 370 pieces
17-20mm: 1kg = approx. 225 pieces
28-30mm: 1kg = approx. ca. 72 pieces
45-50mm: 1kg = approx. ca. 45 pieces

Deco Stones is one of Germany's first companies to introduce the concept of Glass in Gardens. Our online collection houses every kind of glass decoration item including glass balls, glass crystals, glass pebbles, glass marbles, glass rocks, glass stones, glass gravel, terrazzo glass, and more. Shop online 24*7 and find attractive prices. We are always open.