Wholesaler | Glass Rocks | Glass Stones | buy here cheap online
1
to
24
(from a total of
24
)
Landscape your garden with beautiful Glass Rocks. Combine them with LED lights and watch your garden transform into a play of colors.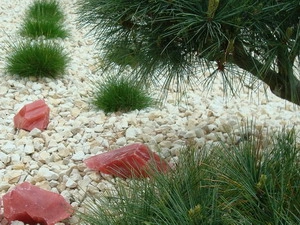 High-quality Glass Rocks adds glamour to your garden. You can fill gabions with an assortment of colors, combine them with LED lights for an enhanced effect. Transparent and translucent design that is dry and pure, free from materials such as plastic and metals. The rocks are not sharp-edged, making them safe to use and simplifies further processing. Available in multiple colors including red, ruby red, yellow, green, dark green, amber, cobalt blue, ocean blue, ultramarine blue, black and white opaque (non-transparent).
Application of Glass Rocks - Tips and Tricks
Use them as a path, as plant pot coverings or as a bed in outdoor areas
filling gabions (wire baskets) as an alternative to stones
filling gabions in combination with natural stones
Weather resistant design allows it to be installed in commercial and urban open spaces
Alternative to pebbles or natural stones in the garden
Design of artificial river and lake landscapes
Glass Rocks can also be used as Fire Glass in firepits and fire places
Decorative aggregates in combination with polyurethane or epoxy resins for the production of open-pore or closed floor coverings in the outdoor area
Combine it with our other products like Glass pebbles, Glass nuggets or Glass Balls
Features of Glass Rocks
Weatherproof, Rot proof and color-intensive
Retains color stability even in extreme weather conditions
Self-cleaning, during rains or artificial irrigation
Unsharp, easy to walk on, can be installed in traffic areas
Available in various colors including turquoise, cobalt blue, yellow, dark green, amber, white and red
Heat insulating and can be used as flat roof covering

Deco Stones is one of Germany's first companies to introduce the concept of Glass in the Garden. Our online collection houses every kind of glass decoration item including glass balls, glass crystals, glass pebbles, glass marbles, glass rocks, glass stones, glass gravel, terrazzo glass and more. Shop online 24*7 and find attractive prices. We are always open. Check out our video on Glass Rocks below for a closer look.