sold off
A real eye-catcher on any keychain and car keys are these fine LED keychains. Today, hardly anyone can do without such personalizing elements. Of course, this is especially true if they also bring a functional advantage, which is the case with our key fob LED. When switched on, they also show which way the key has to go to the lock. This is ensured by the integrated LED element, which shines in a pleasant blue tone.

The glass body of the key ring LED brings edge dimensions of 20 by 15 millimeters with a length of 30 millimeters and is designed in the simplest form crystal clear.

Interesting is the fact that the glass body can also be customized. The keychain LED can be printed or engraved on the outside. The inside can also be used for individualization with laser technology. The design of the inside is possible with both a two-dimensional and three-dimensional look. This makes the keychain LED interesting for many purposes. It can be used as a small souvenir or become a pretty advertising medium in the commercial sector. Decorated with your own company logo, you could give it away to good customers or as a small reward to your employees. The key fob LED can also be used to mark keys that are deposited in a larger key box after work. You do not have to plan high cost if you want to take advantage of the key fob LED. We are a direct importer and can offer you the chic and practical customization for the keychain at very reasonable prices.

If you are also interested in crystal glass products for decoration, you can find these high quality products , especially cheap in purchase.

Your purchase advantage: you buy keychains at DECO STONES import/export wholesale and retail directly from the importer, always without intermediaries.
Are you glad to have some useful tips on how to use keychains with light? Here they are.
As a practical emergency lighting in the dark
as a sophisticated, inexpensive "give away" at trade fairs
Looking for more inexpensive crystal glass gift items? No problem, with our extensive selection.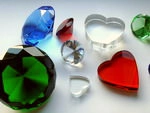 Further, helpful information for purchasing crystal glass diamonds, crystal
crystal glass hearts, crystal glass cuboids or crystal glass
spheres can be found at the following link:

See more cheap crystal glass products here.
DECO STONES Import/Export, always a reliable and professional partner for commercial buyers of any kind of crystal glass decorative products. Extensive stocks allow us to deliver quickly, even in large quantities.
1
to
1
(from a total of
1
)