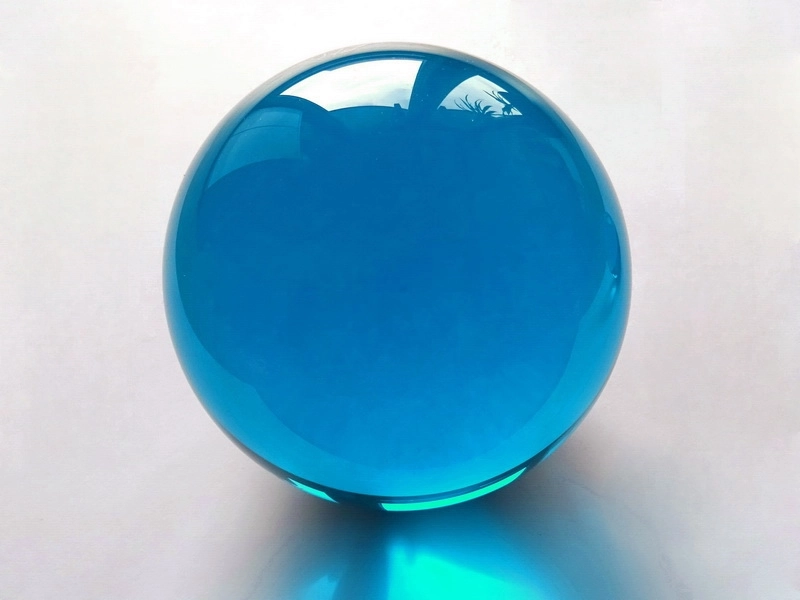 Crystal Glass Balls 40 mm turquoise | teal | Crystal Balls | Crystal Spheres
The crystal glass balls 40mm turquoise | teal, also called crystal balls, are high-quality and precisely manufactured glass balls with a shiny surface. With the crystal balls, penetrating light is refracted through the glass and changed in colour. They impress with their brilliance as a fascinating eye-catcher.

Material: crystal glass, transparent, coloured through, frost-resistant.
Quality: high, for highest demands. Glass balls with excellent round cut and high colour brilliance. Smallest, pin prick sized inclusions, especially with the coloured crystal balls, cannot always be excluded.
Surface: smooth, cut, polished
Weight/piece: crystal ball 40mm: approx. 86g
VP-units: single and compl. VPE in cardboard box
Confectioning: in consultation, gladly according to customer's wishes

WARNING: Please make sure that you position transparent crystal balls in a place that is not directly exposed to sunlight. Glass spheres focus light rays like a magnifying glass (burning glass). As a result, intense sunlight in the immediate vicinity of a crystal ball can cause burn marks on combustible materials. In extreme cases, a fire may result. Especially in times of day when the sun is low in the sky, the angles of incidence of the sun's rays into a glass sphere are favourable for this process.
HÄNDLER - REGISTRIERUNG
Wir freuen uns über Ihr Interesse an einer Zusammenarbeit mit DECO STONES Import/Export.
Um Ihnen unsere interessanten Händler-Einkaufskonditionen zu gewähren, füllen Sie bitte das Registrierungsformular aus.
Die Freischaltung Ihres Accounts erfolgt automatisch, wenn Sie eine Umsatzsteuer-Ident Nummer besitzen und diese dort eintragen. Andernfalls erfolgt die Freischaltung nach Überprüfung Ihrer Angaben manuell.  
SERVICE-TEL.:

05302-930320
– denn wir sind gern für Sie da