Acrylic Raindrops | Crafts and Decoration | Buy Online | DECO STONES
Acrylic Raindrops are small acrylic stones with a diameter of about 6 mm. They look amazingly similar to glittering water drops in the light and are therefore often used for different decoration ideas. Whether for spreading it out in trade fair stand construction, for filling vases or as table decoration at events - the Raindrops can be used in many ways.

Brilliant like real dewdrops, acrylic Raindrops shimmer in seven different colour nuances from crystal-clear to multi-coloured. You break the light much more beautifully than cheap plastic stones. Combined with glass balls or glass nuggets, dazzling acrylic Raindrops create an enchanting atmosphere on covered tables, where they are simply distributed loosely as scattering decoration.

With acrylic dewdrops or acrylic Raindrops you can create perfect table decorations and your guests will expect a professional event or party service behind the table decoration. But the dewdrops are not only perfect as scattering decoration or in vases. You can also use acrylic raindrops for creating individual cards and scrapbooking, which means creating photo albums and decorating the photos they contain with matching decorative items.

If you are interested in further acrylic products for decoration, then you will find in a large selection here our acrylic stones in two sizes and 21 different decorative colors, particularly favorable in the purchase.


Your advantage: You can buy acrylic dewdrops or Raindrops from DECO STONES import/export wholesaler and retailer directly from the importer, always without intermediate trade.

Would you like some useful tips on using Acrylraindrops or Acrylic Dew Drops? Here they are.
floristry
for sophisticated event decorations
covered table, as sparkling scattering decoration
trade fair construction
for handicrafts
for filling decorative glass containers
You are looking for further interesting acrylic products in different shapes and colours? Discover them now here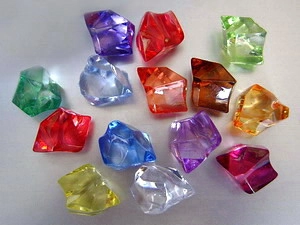 Acryldiamanten Weitere, hilfreiche Informationen zum Kauf von Acrylprodukten, deren Qualität, Verwendung und Verfügbarkeit aus unserem Lagerbestand finden Sie unter diesem Link:

Entdecken Sie diese Acryl-Steine oder Acryl-Diamanten jetzt hier.




DECO STONES Import/Export, immer ein zuverlässiger und kompetenter Partner für gewerbliche Abnehmer von Acrylprodukten aller Art. Umfangreiche Lagerbestände ermöglichen es uns, auch in großen Mengen schnell zu liefern.
1
to
10
(from a total of
10
)