Garden Plugs | Garden Stakes for Sale | Colorful Elements in the Garden | Buy Online
Garden Plugs for Garden Floor | Buy Garden Stakes Online.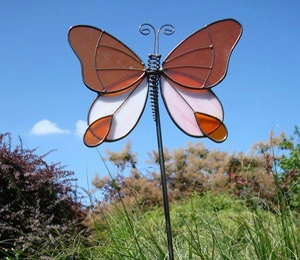 Obtain the timeless modern garden plugs directly from a wholesaler. The plugs are cute and available in multiple designs such as flowers, birds, frogs garden plugs, All products have been fixed on a rod for easy decoration, which can be easily inserted into the garden floor. Also known as Garden Stakes, they can last for years in the garden. Add them to your backyard or entrance area.
Application of Garden Plugs - Tips and Tricks
Place them in your backyard garden or entrance
Designing office gardens
Colorful touch in commercial parks and mall gardens
Features of Glass Granules
Diverse set of designs - Decorative flowers, colorful butterflies, funny frogs. flying birds
Handmade quality
Customized painting on glass if necessary
Made from a combination of glass balls, steel wire, glass beads and colored glass