Glass Beads | Wholesaler | highlights for wall and floor coverings in various colours and sizes | click to buy | DECO STONES
Glass terrazzo products - Production of hard-wearing floor coatings with glass pebbles or glass granules
Here you will find a novel glass grain as an additive, glass gravel for the production of durable wall and floor coatings, in attractive glass colours. You buy the glass gravel, without intermediate trade, directly from the importer. We are specialized in the distribution of glass grains for specialized companies in wall and floor design for exterior and interior use.
Glass grains with rounded edges are called glass gravel. The grain shape is similar to the irregularly shaped, edge-rounded river pebbles. They can also be purchased from us very cheaply in large quantities, because we are an importer and therefore a direct dealer. We offer the glass pebbles in three different grain sizes. If you want to achieve particularly fine structures, we recommend mixing with pieces of 1.5 to 3 millimetres in size. Three to six millimetre glass pebbles can be found in the mix with the medium grain size. Alternatively, you can also use eight to ten millimetre glass pebbles in our range. Glass pebbles are available from stock in a wide range of colours.

A useful plus of the glass pebbles is the variety of available colours. You can decide whether you want to provide your floor with a crystal-clear, green, blue, red or yellow fill. The glass pebbles are also available with silver and black shimmer. They are made of hardened, genuine coloured glass and are therefore extremely robust when it comes to resistance to weather influences. Use these advantages of glass when planning your projects.

Poured with epoxy resins and polyurethane resins, the glass pebbles can become a very special terrace floor that glitters in all colours in the sunshine. But also in entrance areas the glass pebbles can give a floor its own and above all very high-quality flair. The possible mixing, gluing and sealing with resins makes the glass gravel also interesting as a floor covering for a bathroom.

Who would like to have a chic table for the outdoor area, can use the glass gravel together with the resins for the individual creation of the table top. They are even suitable for making a weatherproof coating on a worn table tennis table on polished granite. Even the usual markings can be set by using glass pebbles in different colours.
Here you will find some information about the use of glass terrazzo glass pebbles or glass granules
exclusive glass terrazzo floor coverings or glass carpets
Decorative wall coverings Combination with synthetic resins as binders
decorative aggregates for various products in combination with synthetic resins as binders
Aggregate for exclusive wall plasters
showcase dumps
decorative fillings in exhibition stand construction
as filler for multi-skin sheets or double-walled glass sheets
as grit for event decorations
Recommendations for broken glass grain and other sizes or quality of glass granules can be found here.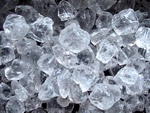 Here you will find our glass flour and other glass granulates made of clear, glittering borosilicate glass. The grain is visually reminiscent of broken rock crystals and is open for many creative projects. Glass granules are swelling stones for sparkling design ideas and will inspire you, too.
Buy now our cheap glass granules crystal clear from the manufacturer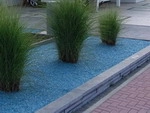 If you need a decorative glass for use in garden and landscape, you are guaranteed to find it here. As one of the first specialists for garden glass in Germany, we offer you a unique selection of suitable glass grains made of through-coloured glass.

Discover now our extensive collection of glass chippings for the garden.


Are you interested in further glass decoration ideas? Nice, also here you will find a large selection of glass products for gardening and landscaping, exhibition stand construction, floristry, market trade and production in our assortment. We are sure that our products will inspire your design ideas and inspire your customers.
DECO STONES import/export, wholesale and retail, always a reliable partner for commercial buyers of glass aggregates for the production of durable wall and floor coatings. Competent, reliable, fast delivery due to large stocks.
1
to
90
(from a total of
90
)