Glass Pebbles Mixes | Wholesaler | Buy Online | Favourable Prices | Fast Delivery
When purchasing glass nuggets of the size 28-30 mm, please note our particularly favourable 20 kg containers.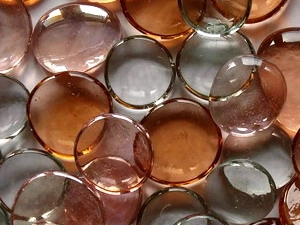 Today, glass is not only used by people as a functional material, for example in the form of window panes, but also increasingly as a decorative element. The glass nuggets, which are also called Muggle stones in the vernacular, belong exactly in this category. Glass has the advantage that it is easy to shape and colour. In addition, it is considered to be a robust material that has a high resistance to both weather influences and chemical compounds. This is why it is particularly popular in the construction sector.

The glass nuggets are available in various size blends. Very fine surfaces can be achieved with the 17 to 20 millimetre glass nuggets. They could, for example, be mixed with the screed of a floor.

Incident light transforms this into a play of colours with which special effects can be achieved. Different colours of the glass nuggets themselves offer the chance to create lettering and logos on the floor. This is of course also possible with the larger batches, which have a diameter of between 28 and 30 millimetres or an average size of between 45 and 50 millimetres.

The glass nuggets can also be used as a pure mixture for filling surfaces. This possibility is mainly used for decorative purposes in trade fair construction and in preparations for larger events. In this case, glass nuggets have the advantage that they can be removed and reused without leaving any residue after the trade fair or event. This makes them an interesting and, above all, environmentally friendly investment. And as a direct importer of glass nuggets, it is not too high for us either.

Buying recommendation: Buy glass nuggets in colour-coordinated mix collections directly from the importer. Please note our particularly inexpensive 20 kg containers.
Here are some interesting tips for using DECO STONES coloured glass pebbles or glass gems 28-30 mm!
for the sophisticated design of large-area interior and exterior decorations
as a wall mosaic or to produce wall borders
as frost-proof, coloured bed and plant pot covering
as decorative edge covering and splash protection around buildings
exclusive showcase fillings in exhibition stand construction
as a set piece in the production of parlour games
Application for mosaic and other handicraft work
as a less dirt-sensitive alternative product to natural stone for outdoor use
decorative glass fillings in exhibition stand construction
for filling decorative glass containers
as inspiring table decoration at events
decorative aggregates for various products in combination with synthetic resins as binders
Glass pebbles inspire you as decorative material and want to look at smaller sizes now? Here only one click to the offer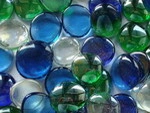 Nur einen Klick hier und Sie entdecken das umfangreiches Angebot an frostsicheren, witterungsbeständigen Glasnuggets.
Lieferbare Durchmesser: 17 mm - 20 mm.
Günstige farbige und klare Glasnuggets im
Durchmesser 17-20 mm hier entdecken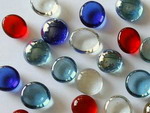 Als Glasnuggets-Fan sind Sie sicher auch
an unseren Kleinsten interessiert.
Lieferbare Durchmesser: 13 mm - 15 mm

Glasnuggets 13 - 15 mm. Unser lieferbares
Sortiment hier ansehen.

Are you interested in further glass decoration ideas? At DECO STONES Import&Export - Wholesale and Retail trade you will find a large selection of glass products for gardening and landscaping, exhibition stand construction, floristry, market trade and production in our assortment. We are sure that our products will inspire your design ideas and your customers with lasting enthusiasm.
DECO STONES - Your partner and glass specialist for professional buyers. Wholesale of inexpensive glass pebbles, glass nuggets or glass gems, glass marbles, glass balls, effect glass balls, high-quality crystal glass balls - competent, reliable and fast deliveries.
1
to
11
(from a total of
11
)