Acrylic gemstones motifs are weather-resistant, decorative acrylic products for indoor and outdoor use | Buy Online
Acrylic hearts or acrylic diamonds small, buy without intermediate trade - let your creativity run free at a reasonable price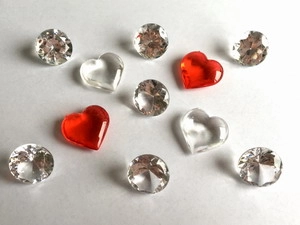 Acrylic gem stones motifs, your first choice. Are you looking for lightweight decoration articles which are light, frost and weather resistant? All DECO STONES acrylic gem stones products meet these requirements.

Be inspired by our red or clear acrylic hearts or the interesting clear acrylic diamonds. You can use the little helpers e.g. as give-aways for customers. Use the acrylic motifs, whether hearts or diamonds for handicrafts and give the result to friends and family.

There are no limits to creativity. Especially at a wedding it would be a pity if such beautiful little acrylic diamonds were missing on the table. Even if the budget is almost exhausted, the inexpensive acrylic diamonds can certainly give your ambience the icing on the cake.

Are you looking for larger hearts made of glass, which you would like to present to your loved ones as a small thank-you or do you need a reconciliation gift? Deco Stones also offers you a solution for this: crystal glass hearts in red or in clear-transparent.

Discover here further decoration articles from acrylic in different sizes, e.g. acrylic stones, which are also called Artdiamanten or acrylic granulate or our Raindrops which are also known under dew drops.
1
to
1
(from a total of
1
)