Acrylic Gem Stones | Crafts and Decoration | Buy Online | DECO STONES
Acrylic Gemstones, Acrylic Diamonds and Acrylic Motifs | Beautiful Decorations and Gifts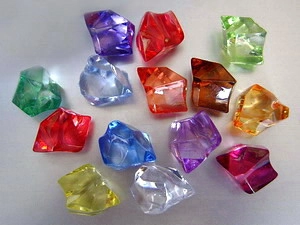 Highly transparent acrylic gems deliver a brilliant shine in high quality. An essential ingredient in personalized gifts, these gemstones add class and make your gifts standout. Used in crafts and decorations, these stones are also known as acrylic diamonds, art diamonds, or acrylic stones. Deco Stones delivers this beautiful product in multiple sizes and a wide assortment of colors. Read our section below to know more about features of this product.
Applications of Acrylic Gemstones - Tips and Tricks
Florist decorations
Advertising and event decorations
Filling decorative glass vases
Messebau
Crafts
for filling decorative glass containers
Features of Acrylic Gemstones
Highly transparent
Brilliant sparkle
Available in a wide variety of colors and sizes
Large stock. Fast delivery on short notice
DECO STONES import/export wholesaler and retailer, reliable and competent partner for commercial customers of acrylic products of all kinds.
Extensive stocks enable us to deliver large quantities quickly.
1
to
9
(from a total of
9
)