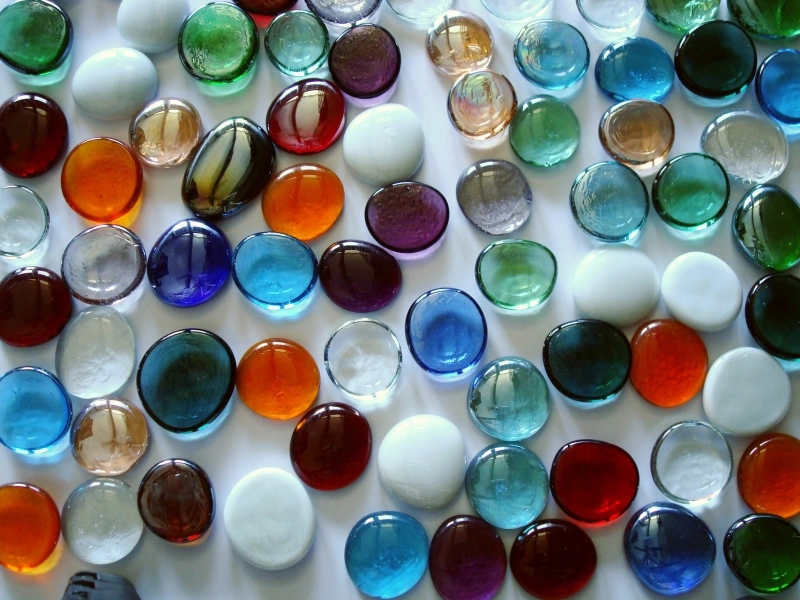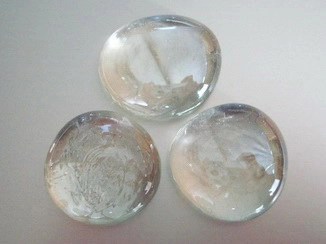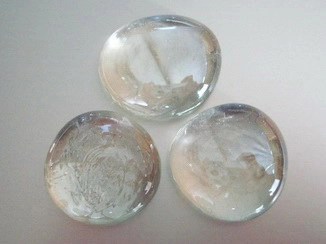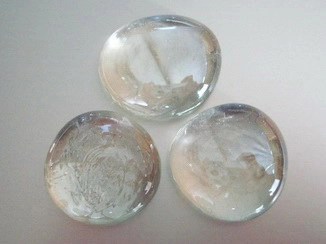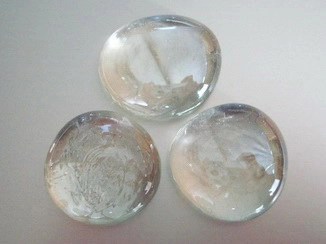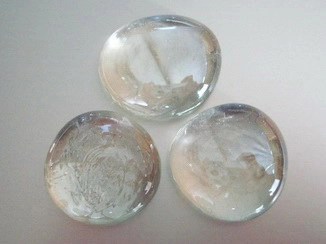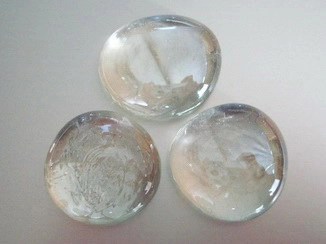 Glass Pebbles 28-30 mm Mixed Colors | Glass Nuggets
Individual creativity with the glass nuggets mixer for size 28-30 mm.
Experience our innovative solution: The glass nuggets-Mixer! Here you have the opportunity to put together your own 1 kg set of glass nuggets in the colors of your choice. Our Muggelsteine (glass nuggets) are divided into three weight classes: 300 g, 300 g, and 400 g. You can assign an individual color to each weight class and choose from a selection of nine different glass colors. This way, you get exactly the quantity and color combination you need for your projects.
Glass nuggets - Creative variety for your ideas
In the DECO STONES decoration shop, we offer a unique selection of glass nuggets, also known as Glass pebbles (glass stones), for all your creative projects. Whether you're crafting, creating mosaics, or actively involved in school or kindergarten activities, our glass nuggets are extremely versatile and add a special shine to your projects.
DECO STONES - Reliable partner for decorative elements
With over 20 years of expertise in wholesale and retail, we at DECO STONES are your reliable and affordable source for high-quality glass nuggets. Our goal is to offer you the best products for your creative ideas, so you can realize your projects with enthusiasm.
glass nuggets | glass pebbles - Unlimited creativity
No matter if you're creating artistic mosaic images, making jewelry, or planning imaginative crafts, with our glass nuggets, there are no limits to your creativity. The vibrant colors and smooth surface of the Muggelsteine add a special touch to every project.
glass nuggets | glass pebbles in Kindergarten - Colorful fun and games
Our Muggelsteine are also a big hit in kindergartens! They are perfect for fun and educational activities with children. Through the various colors, the little ones can playfully learn about colors and improve their motor skills. Additionally, they create fantastic artworks of which the children can be proud.
Versatile use of glass nuggets | glass pebbles at school
glass nuggets | glass pebbles are also a wonderful addition to the classroom for teachers. Whether it's for creative projects, teaching color theory, or designing decorative elements, the Muggelsteine serve as an ideal teaching aid, making the lessons more colorful and exciting.
Entdecken Sie unsere zauberhaften Glasnuggets - Die perfekte Dekoration für jeden Anlass!
Glasnuggets kaufen leicht gemacht - Mit unserem einzigartigen Glasnuggets-Mixer!
Sie suchen nach einer besonderen und kreativen Art, um Ihre Bastelprojekte, Mosaikarbeiten oder Schul- und Kindergartenaktivitäten aufzupeppen? Dann sind Sie bei [DECO STONES] genau richtig! Als erfahrener Groß- und Einzelhändler mit über 20 Jahren Fachkompetenz bieten wir Ihnen hochwertige Glasnuggets, die Ihre Kreativität beflügeln werden.
Glasnuggets - Bringen Sie Farbe in Ihr Leben!
Unsere Glasnuggets sind wahre Farbkünstler und eignen sich perfekt, um Ihren Projekten eine lebendige und strahlende Note zu verleihen. Mit unserem innovativen Glasnuggets-Mixer haben Sie die Möglichkeit, 1 kg Glasnuggets in einer ausgewählten Farbkombination zu einem unschlagbaren Preis zu erwerben. Wir haben das 1 kg Gewicht in drei praktische Gewichtsklassen aufgeteilt, damit Sie Ihre gewünschte Farbe in der richtigen Menge erhalten - 300 g, 300 g und 400 g.
Ganz nach Ihrem Geschmack - Individuelle Farbauswahl
Wir verstehen, dass jeder einzigartig ist und unterschiedliche Farbvorlieben hat. Deshalb bieten wir Ihnen die Wahl aus neun faszinierenden Glasfarben. Gestalten Sie Ihre Projekte ganz nach Ihren Wünschen und verleihen Sie ihnen eine persönliche Note, die begeistert!
Kreativer Spaß für Groß und Klein
Egal, ob Sie ein erfahrener Bastler oder ein aufstrebender Künstler sind - unsere Glasnuggets sind für alle Altersgruppen geeignet. Verwandeln Sie langweilige Gegenstände in wunderschöne Kunstwerke oder gestalten Sie gemeinsam mit Kindern fabelhafte Kunstprojekte im Kindergarten oder in der Schule. Die Möglichkeiten sind grenzenlos!
Die Vorteile von [DECO STONES]
Einzigartige Glasnuggets-Mixer für individuelle Farbkombinationen Hochwertige Glasnuggets in neun verschiedenen Farben Praktische Gewichtsklassen für die optimale Menge Perfekt für Bastelarbeiten, Mosaik und schulische Aktivitäten Erfahrung und Fachkompetenz seit über 20 Jahren Attraktive Preise für den Groß- und Einzelhandel
Entdecken Sie die Magie unserer Glasnuggets und bestellen Sie noch heute!
Muggelsteine kaufen - Kreativer Bastelspaß für jedermann!
Keywords: Muggelsteine, Basteln, Mosaik, Schule, Kindergarten
Meta-Titel: "Kreative Glasnuggets für Basteln & Mosaik - [DECO STONES]" Meta-Beschreibung: "Entdecken Sie unsere zauberhaften Glasnuggets in neun Farben! Perfekt für Bastelprojekte, Mosaikarbeiten und mehr. Jetzt individuelle Farbkombinationen im Glasnuggets-Mixer wählen und bei [DECO STONES] kaufen!"