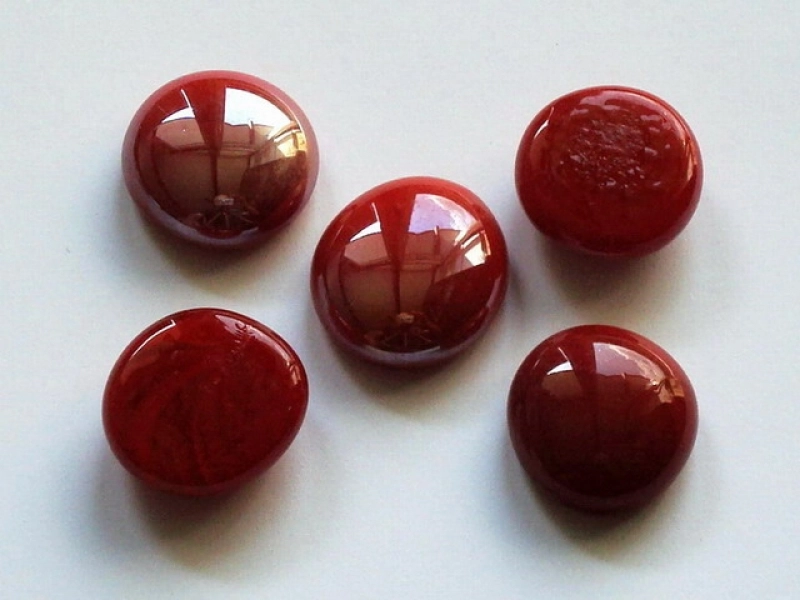 Glass pebbles | glass nuggets | glass gems ruby red opak, 17-20 mm/25 kg
Glass Pebbles
ruby red opaque, also known as
Glass nuggets
ruby red, glass gems, or glass mosaic stones red, are machine-made flat glass beads. With their wide range of applications in mosaic work, gardens and open space, events, and home decoration, these products will convince you too. Available in mixed colors, the assortment of glass pebbles are frost-free, the weather-resistant products retains its color practically indefinitely, even with constant outdoor use. Order 1 kg now and have it delivered within the EU.
Packaging unit:
1 kg glass pebbles | glass nuggets | glass gems | glass mosaic stones in transparent clip bag.
Contents: approx. 220 pieces, size approx. 17-20mm.
Please also note our especially favorable 20 kg bulk packs.
Description:
glass pebbles | glass nuggets | glass gems | glass mosaic stones made of red glass.
Available in other opaque or transparent glass colors, too. Please also note the in-stock immediately available colorful mixes of up to about 10 different glass colors.
Features:
Diameter: approx. 17-20 mm
thickness: approx. 8 mm
solid colored glass
Industrial quality.
Dust-free, dry, no off-color, free of organic and metallic particles.
infinitely resistant to extreme weather conditions
non-rotting
Color stable - retains color for an infinite period of time.
the fuzzy surface makes it perfectly walkable
compared to natural stone products, it retains its color even when dry
hardly any moss or algae growth in the open space, due to the non-porous glass surface
self-cleaning, largely due to natural or artificial sprinkling
recyclable without special treatment
HÄNDLER - REGISTRIERUNG
Wir freuen uns über Ihr Interesse an einer Zusammenarbeit mit DECO STONES Import/Export.
Um Ihnen unsere interessanten Händler-Einkaufskonditionen zu gewähren, füllen Sie bitte das Registrierungsformular aus.
Die Freischaltung Ihres Accounts erfolgt automatisch, wenn Sie eine Umsatzsteuer-Ident Nummer besitzen und diese dort eintragen. Andernfalls erfolgt die Freischaltung nach Überprüfung Ihrer Angaben manuell.  
SERVICE-TEL.:

05302-930320
– denn wir sind gern für Sie da