Glass Marbles 14 mm | Wholesaler, low-priced bulk quantities
1
to
4
(from a total of
4
)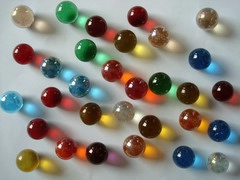 Glass marbles 14 mm are very popular for decorative purposes. We supply glass marbles in 4 different diameters of 14, 16, 25 or 35 millimetres, so that you can use the marbles in many different ways. Whether at small parties in the family circle or large events - as Streudeko on the laid table the glass marbles 16 mm inspire again and again.

The industrially produced glass marbles 14 mm or glass balls have the typical surface with grooves. They can be ordered crystal clear or in bright, shimmering colours that refract the light. But they do not only cut a good figure as Streudeko on the laid table or piled up in beautiful glass containers.

Resourceful gardeners who are looking for something special for their own garden have long since discovered the 16 mm marbles for themselves. Instead of simple bark mulch, they are used to cover the bed, creating a special atmosphere in your own garden. Often even artists use the 14 mm glass marbles by assembling them into decorative art objects.

Do you have higher demands on the glass marbles and prefer the purchase of individual pieces in excellent crystal glass quality? Then you might find exactly what you are looking for in our 16 mm range of crystal glass balls.

You buy glass marbles 14 mm from DECO STONES Import/Export Wholesale and retail trade at favourable prices without intermediate trade.
Are you interested in further decorative glass articles? Tip: Here you will find a large selection of decorative glass chunks and glass chippings from our range.