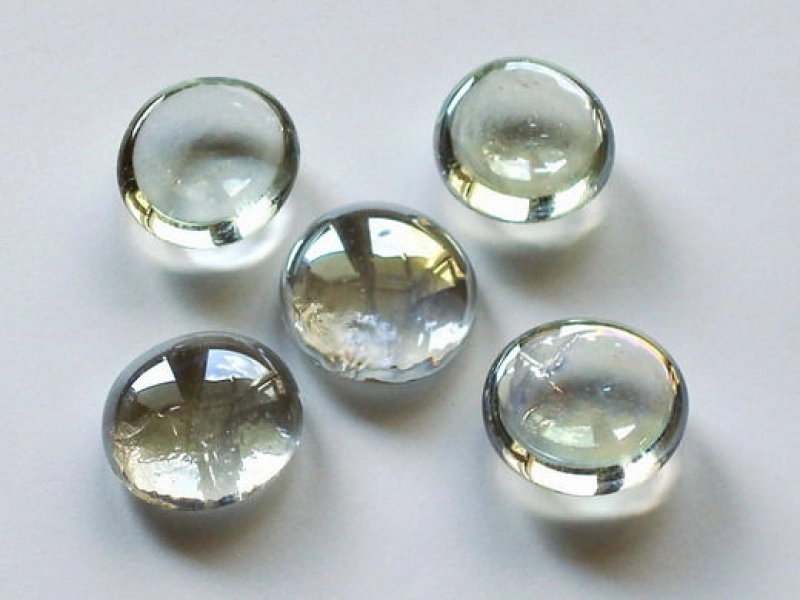 Glass pebbles clear 17-20 mm shimmering| glass nuggets | glass gems/25 kg
Glass Pebbles 17-20 mm, clear shimmering, also known as Glass Nuggets or Glass Gems, are machine-made flat glass beads.
Description:
Size: approx. 17-20 mm
Glass color: clear, shimmering.
Other glass colors:
Light refraction: very good
Packing: 1 kg or 20 -25 kg units.
Packing can also be made according to the customer's requirements.
Sample: available, please let us know your requirements and ask for the sample cost.
Shipping: Worldwide
These glass pebbles 17-20 mm, clear shimmering | glass beads | glass nuggets are used for weddings, events, and in the garden and landscape design for outdoor decoration.
They also show an impressive effect when used as decorative fill material on flat roofs.
The frost-free, weather-resistant material is virtually rot-proof and retains its appearance even after long-term outdoor use.
If you are interested, order the desired samples now and have the effective glass pebbles | glass beads | glass nugget delivered worldwide.
HÄNDLER - REGISTRIERUNG
Wir freuen uns über Ihr Interesse an einer Zusammenarbeit mit DECO STONES Import/Export.
Um Ihnen unsere interessanten Händler-Einkaufskonditionen zu gewähren, füllen Sie bitte das Registrierungsformular aus.
Die Freischaltung Ihres Accounts erfolgt automatisch, wenn Sie eine Umsatzsteuer-Ident Nummer besitzen und diese dort eintragen. Andernfalls erfolgt die Freischaltung nach Überprüfung Ihrer Angaben manuell.  
SERVICE-TEL.:

05302-930320
– denn wir sind gern für Sie da